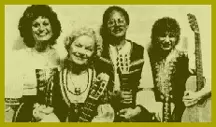 La Nona: Flory Jagoda
Flory Jagoda was born Flory Altarac, and grew up in a musical Sephardic family in Vlasenica, a mountain village near Sarajevo. As a refugee in Italy during World War II, she met and married Master Sergeant Harry Jagoda, an accomplished composer, singer and musician. Today Flory is the only surviving member of the Altarac family. Both she and Harry Jagoda have devoted themselves to the performance, recording and perpetuation of Sephardic music of Bosnia and the Balkans, to pass on the traditions of this unique heritage. Her three recorded albums are Kantikas di mi Nona (Songs of My Grandmother), Memories of Sarajevo, and La Nona Kanta (Grandmother Sings). She is also the author of the Flory Jagoda Songbook, an illustrated book with biographical history and photographs featuring the musical notation, lyrics and translations of all of her recordings.
Flory Jagoda's songs, in Ladino (Judeo-Spanish) are one of Judaism's richest cultural traditions. She performs authentic as
well as original compositions. These Sephardi songs provide a lyrical history of the Sephardim, the Spanish Jews who fled
religious persecution in Spain and who settled throughout the Mediterranean.
During their centuries of exile, the Sephardim maintained their culture with astonishing faithfulness; in many cases, today, Ladino speakers are speaking a form of 15th or 16th-century Spanish mixed with Hebrew, Turkish, Italian or other languages. Their
songs, largely preserved by women, paint a detailed portrait of their daily lives, religious observances, memories and nostalgia
for the lost life in Spain. The music spans a broad range of style and moods and blends the themes and sounds of their adopted
countries.
Flory Jagoda has given musical performance lectures and concerts throughout the United States, and has performed as a featured solo artist in concerts nationally and internationally, including Poland, Turkey, Spain, Canada, Yugoslavia and Israel.
Her children have also learned many of these Sephardi songs; Flory often performs with her daughters Betty and Lori and son Elliot.
Writing in the Forward, Stephen Schwartz noted: "When Flory Jagoda sings the Turkish-style love song Noches, noches, buenas noches, the effective is spectacular. The melody resembles the wailing cantillation of a cantor or the piercing cry of the muezzin..."
Flory Jagoda was the featured artist at the Open House of Ivri-NASAWI's new chapter in Washington, DC, on Sept. 17, 2000.
---
For information about educational workshops, solo concert performances, or family ensemble performances, please email

Ordering Information From Altarasa Records:
Kantikas de Mi Nona cassette $10, CD $16.00
Memories of Sarajevo cassette $10, CD $16.00
La Nona Kanta cassette $10, CD $16.00
The Flory Jagoda Songbook songbook $22
All recordings sung in Ladino with Ladino lyrics and English translations.
To order, tally your purchases and add $3.25 for priority shipping. Please send checks to "Altarasa Records"
6307 Beachway Drive, Falls Church, VA 220044.