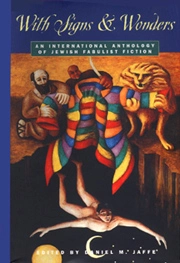 Available to new and renewing members of Ivri-NASAWI as a sign-up gift!

With Signs & Wonders (Invisible Cities Press, 2001) is a new anthology
of international Jewish fabulist fiction, edited by Daniel M. Jaffe, featuring 25 writers
from around the world, among them Avi Shmuelian, Moacyr Scliar, Ruth Knafo Setton,
Gloria De Vidas Kirchheimer and Angelina Muñiz-Huberman.

" With Signs & Wonders is rich with intriguing tales," writes Diane Matza, editor of the
anthology Sephardic American Voices. "For an American audience accustomed
primarily to the East European tradition, the book provides exposure to the
multicultural reality of contemporary Jewish literature. Magical tales, folkloric
revisions, and historical revisitations by American, Israeli, South American,
Sephardi, and Ashkenazi men and women fill this volume's pages. The best
stories seamlessly fuse the details of Jewish life and the fabulist's
experiments in form, style and subject."

"A deliciously multifaceted journey into alternative realities," says critic Ilan Stavans.
"This anthology proves that no obstacle--neither the prohibition against idolatry, nor
an itinerant life always on the verge of the unknown--ever stopped Jews from
becoming inveterate dreamers. Jaff has the right editorial pitch: he sees literature
globally. His selections display the inquisitiveness of the rabbinical mind and the
compassion of secularism."

When you sign up as a new Essential member today, you receive this $26 value as
our thank-you gift! And new or renewing Associate members can choose in addition
one of the following CDs!
| | |
| --- | --- |
| | |
| Al-Andalus is a masterful ensemble performing classical Arabic, Sephardic, African, South Indian and jazz compositions. | The Gérard Edery Ensemble, winner of the Œ97 Sephardic Musical Heritage Award, plays Sephardic love songs including A la una yo naci and La Sirena. |
Ivri-NASAWI members also receive discounts to our programs in Los Angeles,
New York and the San Francisco Bay Area during the year of membership. In
addition, you receive our print newsletter beginning with the Fall-Winter 2001 issue.
Visit our membership page today.